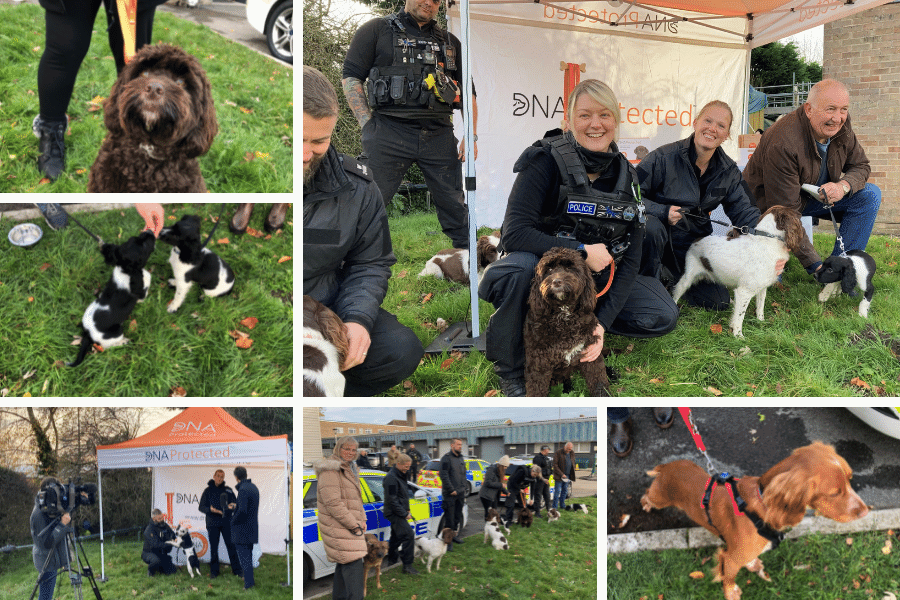 Wiltshire Police has launched a new initiative to help dog owners keep their pets safe by having the DNA of the dog recorded on a central register. This is an infallible way of having your pet's ownership recorded rather than rely on a microchip that can be wiped of data by ruthless criminals.
Today, Wiltshire and Swindon Police and Crime Commissioner Philip Wilkinson joined Police officers, police dogs and representatives of Cellmark Forensic Services to demonstrate how easy it is to take a DNA swab sample for recording and registration.
Inspector Gill Hughes, who has been instrumental in progressing this initiative said: "Nationally, there have been much higher levels of dog thefts over the past 18 months, especially as prices for puppies climbed due to soaring demand during the periods of lockdown. Fortunately, Wiltshire and Swindon have not experienced the high levels of dog theft like some counties, but we are ever-mindful of the distress that is caused by the loss of a beloved pet wherever it happens."
"I would encourage dog owners, especially those with high-value pedigree dogs, to consider buying a DNA test kit and registering their dogs on the national register. It will make it harder for thieves to sell your pet and easier for us to return a dog to its rightful owner should it be stolen or even lost.
So far this year there have been just 11 reports of thefts or attempted dog thefts in the Force area. In all cases the dogs have been reunited with their owners.
Wiltshire and Swindon Police and Crime Commissioner, Philip Wilkinson said: "Whilst we haven't seen the same level of dog theft in Wiltshire that has been seen in places like South Wales, that doesn't mean we should be complacent when it comes to protecting our pets and working dogs."
"Sadly, dog thieves are trying to find ways of getting around the tried and trusted system of microchipping, causing distress and injury to dogs which have been stolen."
"This is why we're following the lead of our colleagues in Gloucestershire by putting our police dogs on the DNA register, making us the second force in the world to do so. "
DNA Protected is an initiative of Cellmark Forensic Services, a company that has provided specialist forensic DNA services to the police for over 30 years.
'We are delighted to be working with Wiltshire Police to help prevent and combat dog theft' said David Hartshorne, Managing Director of Cellmark Forensic Services. "The Forensic Dog DNA Database gives dog owners access to powerful DNA technology so that if the worst were to happen, it could be used to help the police identify and return a lost or stolen dog to its owner."
The Forensic Dog DNA Database has been designed and is maintained in compliance with the stringent requirements of the Forensic Science Regulator's Codes of Practice and Conduct for reference collections and databases and meets all necessary ISO standards of accreditation.
Test kits can be bought directly from the company's website for £74.99: https://www.dnaprotected.co.uk/shop/